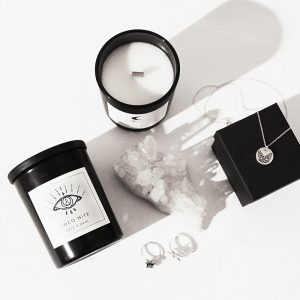 NEW Coconite Candle Designs are here!
We are still creating dark & shiny adornments, however 6 months ago we released a new addition to the KXD Kollective, our Coconite Candles.
These Eco-luxury, vegan friendly candles are made from coconut wax, in micro batches hand-poured by us in Vancouver, B.C.
A back burner project (no pun intended) we had been working on for over a year, to create a high quality, deliciously scented and rad looking candle for you. …And okay maybe ourselves too, we're kinda both obsessed with candles haha.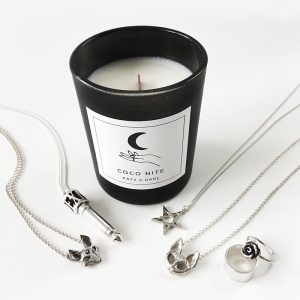 Some fun facts about Coconut Wax, our candles specifically, and why you should give a f*ck: 
Coconut wax is a cleaner burning, more eco-friendly option than soy. It burns at a lower temperature making them last wayy longer.
Our candles are non-toxic, paraffin and lead free. Coconut trees are considered a sustainable crop and the cedarwood wicks are from sustainable forests. Good vibes only with these babies!
Coconite Candles wooden wicks make a soft crackling sound many would describe as delightful. Coconut wax has a stronger hot/cold scent throw, which is why your candle smells so damn yummy.
Our current goal is to collaborate with various artists and team up with different charities we support; such as local pet shelters, with part of proceeds being donated to them. We will definitely be doing more posts on that to keep you in the loop! It's all about giving back. <3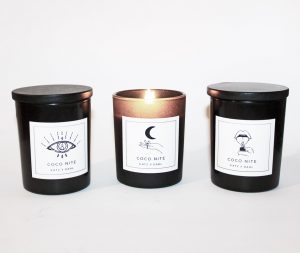 About the new designs..
They're black, of course, in either a matte or glossy finish, and feature limited edition blackline tattoo style art. Our personal favourite. You choose the design and scent. Oh, they also have matching black wooden lids. Because all black everything.. because.. do we even need a reason??
Available in 4 scents: Coconut Cream, Dark Chocolate Orange, Sandalwood Vanilla, and Wild Plum & Fig as well as Unscented.
Worldwide shipping available!  Get yours here > http://bit.ly/coconite